Directed By
Joe Carnahan
Written By
Joe Carnahan, Brian Bloom, Skip Woods
Cast
Liam Neeson, Bradley Cooper, Jessica Biel, Quinton Jackson, Sharlto Copley
Produced By
Stephen J. Cannell, Jules Daly, Tony Scott, Spike Seldin, Iain Smith, Alex Young
Executive Producer
Ross Fanger, Ridley Scott, Marc Silvestri
Film Editing By
Roger Barton, Jim May
Music By
Alan Silvestri
Studio

20th Century Fox

Country

USA

Language

English

Release Date

11 Jun 2010

Runtime

117 min

Distributed By

20th Century Fox

Budget
$110,000,000
Gross
$77,213,489
Overview
Plot
Colonel John "Hannibal" Smith is the man with the plan. He's a tactical genius who leads his men from the front and has assembled the ultimate team of soldiers from master infiltrator, expert scrounger, legendary womanizer and con artist Templeton "Face" Peck; an incredibly skilled mechanic and driver whose skills behind the wheel are only exceeded by his fists B.A. Baracus; and "Howling Mad" Murdock, an ace pilot whose skills are as great as his tenuous grip on his sanity.
They were the best. The Special Forces of Special Forces. Men who specialized in doing the ridiculous and doing the impossible. They were ... the A-Team.
Then they were framed as war criminals and traitors; sentenced to military prison. Determined to prove their innocence, the quartet escape and go after the real criminals.
Cast
Production
Reception
External Links
Trailer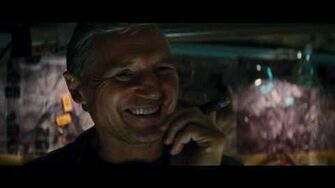 Ad blocker interference detected!
Wikia is a free-to-use site that makes money from advertising. We have a modified experience for viewers using ad blockers

Wikia is not accessible if you've made further modifications. Remove the custom ad blocker rule(s) and the page will load as expected.