An American Werewolf in London
Directed By
John Landis
Written By
John Landis
Cast
David Naughton, Griffin Dunne, Jenny Agutter
Produced By
Jon Peters, Peter Guber, George Folsey, Jr.
Film Editing By
Malcolm Campbell
Cinematography By
Robert Paynter
Music By
Elmer Bernstein
Studio

PolyGram Filmed Entertainment, The Guber-Peters Company

Country

United Kingdom, United States

Language

English

Release Date

August 21, 1981

Runtime

97 Minutes

Rating
R
Distributed By

Producers Sales Organization, Universal Pictures

Budget
$10,000,000
Gross
$61,973,249
Plot
While packbacking through the English countryside, two american students are viciously attacked by a strange wolf-like animal. The surving student is taken to a hospital in London as he begins to recover from the attack he is plagued by horrible and violent nightmares, he soon begins to realize that something is terribly wrong.
Cast
David Naughton as David Kessler
Jenny Agutter as Nurse Alex Price
Griffin Dunne as Jack Goodman
John Woodvine as Dr. J.S. Hirsch
Frank Oz as Mr. Collins
Don McKillop as Inspector Villiers
Paul Kember as Sergeant McManus
Linzi Drew as Brenda Bristols
Production
Reception
Trailer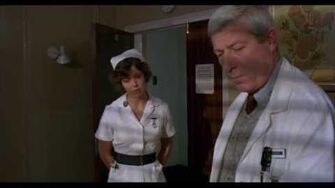 Ad blocker interference detected!
Wikia is a free-to-use site that makes money from advertising. We have a modified experience for viewers using ad blockers

Wikia is not accessible if you've made further modifications. Remove the custom ad blocker rule(s) and the page will load as expected.