Batman: Assault on Arkham (2014)

Get Ready To Root For The Bad Guys.
Directed By
Jay Oliva, Ethan Spaulding
Written By
Heath Corson
Cast
Kevin Conroy, Neal McDonough, Hynden Walch, Matthew Gray Gubler
Produced By
James Tucker
Film Editing By
Christopher D. Lozinski
Music By
Robert J. Kral
Studio

Warner Bros. Animation, DC Entertainment

Country

United States

Language

English

Release Date

July 29, 2014 (Digital)

Runtime

76 Minutes

Distributed By

Warner Home Video
Overview
A DC animated film, set in the Batman: Arkham Asylum video game's universe. It takes place after the events in Batman: Arkham Origins video game. The animated movie revolves around the Suicide Squad, who are forced to steal the information from Riddler, and at the same time, assassinate him. To make their job difficult, they must break into Arkham Asylum.
Plot
Cast
Kevin Conroy as Batman / Bruce Wayne
Neal McDonough as Deadshot / Floyd Lawton
Hynden Walch as Harley Quinn / Dr. Harleen Quinzel
Matthew Gray Gubler as Riddler / Edward Nygma
Troy Baker as Joker
C.C.H. Pounder as Amanda Waller
Greg Ellis as Captain Boomerang / George Harkness
Giancarlo Esposito as Black Spider / Eric Needham
John DiMaggio as King Shark
Jennifer Hale as Killer Frost / Louise Lincoln
Nolan North as KGBeast / Anatoly Knyazev, Oswald Cobblepot / Penguin
Eric Bauza as Security Guy
Chris Cox as Commissioner James Gordon
Martin Jarvis as Alfred Pennyworth
Peter Jessop as Watch Commander
Christian Lanz as Scarecrow / Jonathan Crane
Andrea Romano as Woman
Travis Willingham as Morgue Guy
Mick Wingert as Joker Security Guy
Production
Reception
External Links
Trailer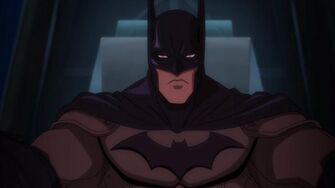 Ad blocker interference detected!
Wikia is a free-to-use site that makes money from advertising. We have a modified experience for viewers using ad blockers

Wikia is not accessible if you've made further modifications. Remove the custom ad blocker rule(s) and the page will load as expected.