The Big Bang Theory

General Information




Aliases
TBBT; Big Bang
Creator(s)
Chuck Lorre, Bill Prady
Principal Cast
Johnny Galecki, Jim Parsons, Kaley Cuoco, Simon Helberg, Kunal Nayyar, Mayim Bialik, Melissa Rauch

Broadcasts

Network
CBS
Rating
TV-14
Runtime
18-22 Minutes
No. of Seasons
12
Start Date
September 24, 2007
End Date
Present

Production

Spin-offs
Young Sheldon
Country
United States
Language
English
Overview
It's the scientific experiment that took millions to years to put together!
First, assemble four scientific geniuses and extreme geeks who have no life outside of the science lab ... or a comic book store. Then add one hot waitress and wannabe actress struggling to make it in the real world as a catalyst.
Now step back and prepare for the ultimate comedic clash of realities and cultures as their lives will never be the same again.  It'll be the biggest explosion since the Big Bang!
The Big Bang Theory is an ongoing multi-award winning American TV sitcom that is one of the highest rated and most popular TV series currently being aired. Although originally intended to focus on the characters of Leonard Hofstader and Penny as played by Johnny Galecki and Kaley Cuoco; the series is best known for its breakout character of Sheldon Cooper as portrayed by Jim Parsons. The popularity of the later character resulted in a forthcoming spin-off series, Young Sheldon to be released in 2017.
Notable Characters
Plot Summary
Season 1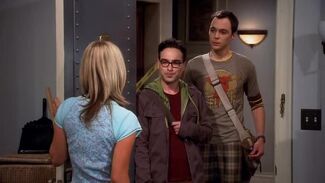 Introverted Leonard Hofstadter and his roommate, the physics prodigy and OCD neurotic Sheldon Cooper find that the apartment next door has a new occupant. They are subsequently introduced to Penny, a perky farm girl from Omaha who makes her living as a waitress at the Cheesecake Factory while attempting to break into showbiz. Leonard immediately becomes hopeless enamored with the beautiful young actress/waitress while she becomes platonic friends with him and learning to tolerate his few but incredibly eccentric acquaintances along the way.
They include the sex-crazed horny Jewish engineer and mama's boy Howard Wolowitz with his 1960s hairstyle, clothing, and pickup lines; the painfully shy astronomer Rajesh "Raj" Koothrappali who suffers from extreme mutism in the presence of women, particularly attractive women like Penny; and of course, Sheldon Cooper who is an overly arrogant, narcissistic, overly inflated intellectual who has a pronounced lack of understanding human emotions and sarcasm.
Meanwhile Penny is struggling to cope with a recent bad breakup with her old boyfriend Kurt finds herself diving into the dating pool of Pasadena, California and promptly hits her head in the very shallow pool; meanwhile Leonard struggles to confess his feelings to her.
The group inadvertently discovers that Rajesh can speak to women when under the effects of alcohol. However, the more alcohol he drinks, the more obnoxious he becomes.
And the entire group finds themselves struggling to cope with Sheldon's ever increasing OCD tendencies and deranged tendencies to force the world to follow his viewpoints. Finally, frustrated her lack of finding a decent boyfriend, Leonard is able to convince Penny to try going out with him. Penny admits that Leonard is far from the regular sort of guy that she usually dates, it might not be such a bad thing considering her lack of success in that area...
Season 2
Leonard and Penny's brief attempt at starting a relationship has crashed and burned faster than the Space Shuttle Columbia. But getting back to being merely platonic friends is awkward. Meanwhile Penny realizes that she has changed from her interactions with the quirky group and has become increasingly closer to all of them, even the whack-a-doodle Sheldon Cooper even briefly suffering from video gaming addiction to cope with her stalled acting career.
Leonard pursues a number of relationships with several women but can't seem to completely let go of his romantic interest in Penny. Finally, Sheldon receives an unexpected offer to stay at the North Pole in order to perform several physics experiments which might prove string theory and decides to invite Leonard, Howard, and Raj to be a part of his team. Mainly because adjusting to anyone more qualified would be incredibly stressful for him! As Leonard departs for the three month-long expedition, Penny tearfully realizes that she will miss him...
Season 3
Season 4
Season 5
Season 6
Season 7
Season 8
Episode Guide
Season 1
| # | | Episode Title | Air Date |
| --- | --- | --- | --- |
Ad blocker interference detected!
Wikia is a free-to-use site that makes money from advertising. We have a modified experience for viewers using ad blockers

Wikia is not accessible if you've made further modifications. Remove the custom ad blocker rule(s) and the page will load as expected.