Big Hero 6
Directed By
Don Hall, Chris Williams
Written By
Don Hall, Jordan Roberts
Cast
T.J. Miller, Jamie Chung, Maya Rudolph, Josh Hutcherson, Samuel L. Jackson
Produced By
Roy Conli
Film Editing By
Tim Mertens
Cinematography By
Julio Macat
Music By
Henry Jackman
Studio

Walt Disney Pictures, Walt Disney Animation Studios

Country

United States

Language

English

Release Date

November 7, 2014,

Runtime

105 Minutes

Rating
PG
Distributed By

Walt Disney Studios Motion Pictures

Budget
$165,000,000
Based on
Big Hero 6 by Man of Action
Overview
A 3D computer animated film that focuses on the origin story of a group of scientifically gifted students who use their unique genius to become superheroes. Inspired by the Marvel Comics' Big Hero 6 comic book series, the various characters are adapted from the comic book but actually very little else were derived from the comic book-based characters.
Plot
Scientific prodigy Hiro Hamada is wasting his life, time, and talents in the city of San Fransokyo, a futuristic Asian-American conglomeration of San Francisco and Tokyo. Until his older brother, Tadashi decides to show him that there is a place where his untapped genius could be harnessed: SFIT. The San Fransokyo Institute of Technology. It is a place where the future is being built from the plasma lasers of Wasabi, the electromagnetic wheels of GoGo Tomago, and the chemical insanity of Honey Lemon ... along with Tadashi's greatest creation, an inflatable robotic health care unit known as Baymax.
But when his brother is killed in a terrible accident, Hiro unleashes his full creative genius to discover the truth behind it. But to do so, he and his friends will have to become heroes. Actually, they have to become something more. Something greater. Something bigger beyond their wildest imaginations. Big Hero 6.
Cast
Ryan Potter as Hiro Hamada
Scott Adsit as Baymax
Daniel Henney as Tadashi Hamada
T.J. Miller as Fred
Damon Wayans Jr. as Wasabi
James Cromwell as Yokai
Alan Tudyk as Alistair Krei
Maya Rudolph as Aunt Cass
Stan Lee as Fred's Father
Katie Lowes as Abigail
Paul Briggs as Yama
Charlotte Gulezian as Ringleader
Billy Bush as Newscaster
Abraham Benrubi as General
David Shaughnessy as Heathcliff
Production
Reception
External Links
Trailer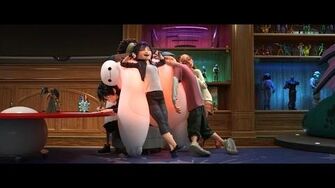 Ad blocker interference detected!
Wikia is a free-to-use site that makes money from advertising. We have a modified experience for viewers using ad blockers

Wikia is not accessible if you've made further modifications. Remove the custom ad blocker rule(s) and the page will load as expected.