Blade: Trinity

Where it began so it shall end.


The final hunt begins.
He's fought the forces of darkness alone...until now.

Directed By
David S. Goyer
Written By
David S. Goyer
Cast
Wesley Snipes, Jessica Biel, Ryan Reynolds, Parker Posey
Produced By
Wesley Snipes, Lynn Harris, Peter Frankfurt, David S. Goyer
Film Editing By
Conrad Smart, Howard E. Smith
Cinematography By
Gabriel Beristain
Music By
Ramin Djawadi, The RZA
Studio

Marvel Enterprises, New Line Cinema, Amen Ra Films, Imaginary Forces, Shawn Danielle Productions Ltd.

Country

United States

Language

English

Release Date

December 8, 2004

Runtime

122 Minutes

Rating
R
Distributed By

New Line Cinema

Budget
$65,000,000
Gross
$128,905,366
Plot
The line between what we know as reality and fantasy has fallen. Outed by the vampires he once hunted as a delusional serial murderer who believes he is a vampire hunter; Blade is on the run from the very humans he once protected.
Meanwhile, having their ranks decimated thanks to Blade; the vampire ruling caste has sought out their ancestor to restore them to their former glory. He is the First Vampire, the Forerunner to Them All ... Dracula.
But Blade won't be facing this new array of enemies alone. Accompanied by the Nightstalkers, a ragtag team of vampire hunters who believe that this is not their final stand but their hope for absolute victory.
Cast
Kris Kristofferson as Abraham Whistler
Ryan Reynolds as Hannibal King
Dominic Purcell as Dracula
Parker Posey as Danica Talos
Callum Keith Rennie as Asher Talos
Triple H as Jarko Grimwood
Natasha Lyonne as Sommerfield
Haili Page as Zoey Sommerfield
John Michael Higgins as Dr. Edgar Vance
Mark Berry as Martin Vreede
Patton Oswalt as Hedges
James Remar as Ray Cumberland
Michael Rawlins as Wilson Hale
Eric Bogosian as Bentley Tittle
Christopher Heyerdahl as Caulder
Production
Reception
Trivia
External Links
Trailer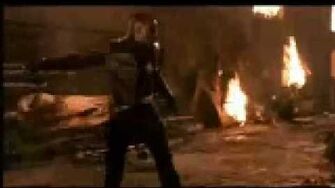 Ad blocker interference detected!
Wikia is a free-to-use site that makes money from advertising. We have a modified experience for viewers using ad blockers

Wikia is not accessible if you've made further modifications. Remove the custom ad blocker rule(s) and the page will load as expected.