Blade II

Know The Mark


One Man Is Still The Cutting Edge
Faster. Sharper. Deadlier.
When Evil Strikes, One Man Still Has The Edge.
Let The Combat Begin
Last Time He Fought Against His Sworn Enemies...This Time He Will Fight With Them.

Directed By
Guillermo del Toro
Screenplay By
David S. Goyer
Cast
Wesley Snipes, Ron Perlman, Leonor Varela, Luke Goss
Produced By
Peter Frankfurt, Wesley Snipes, Patrick Palmer
Executive Producer
Avi Arad
Film Editing By
Peter Amundson
Cinematography By
Gabriel Beristain
Music By
Marco Beltrami
Studio

Marvel Enterprises, New Line Cinema, Amen Ra Film, Imaginary Forces

Country

United States

Language

English

Release Date

March 22, 2002

Runtime

117 Minutes

Rating
R
Distributed By

New Line Cinema

Budget
$50,000,000
Gross
$155,010,032
Plot
After rescuing his mentor turned vampire Abraham Whistler from his captors, Blade finds himself at a curious crossroads. A strange vampire mutation has occurred in the form of Jared Nomak. He is the first of a new breed of vampires dubbed "Reapers" and it is spreading like a deadly virus. For the Reapers feed not only on humans, but vampires as well and have a ravenous hunger, forcing them to feed frequently.
Now the hunters have become the hunted and they're only hope is to the turn to Blade to help them destroy this threat before it wipes both humans and vampires alike. Even though it is clear that the Reapers are the greater threat, can Blade dare to trust his new "allies"?
Cast
Kris Kristofferson as Abraham Whistler
Ron Perlman as Reinhardt
Thomas Kretschmann as Eli Damaskinos
Luke Goss as Jared Nomak
Matt Schulze as Chupa
Danny John-Jules as Asad
Donnie Yen as Snowman
Karel Roden as Karel Kounen
Marit Velle Kile as Verlaine
Darren "Daz" Crawford as Lighthammer
Tony Curran as Priest
Santiago Segura as Rush
Marek Vasut as Golem
Samuel Le as Jigsaw
Ivan Mares as Tea Bag
Karel Vavrovec as St. Cloud
Milos Kulhavy as Little G
Andre Hyde-Braithwaite as Young Blade
Production
Reception
Trivia
External Links
Trailer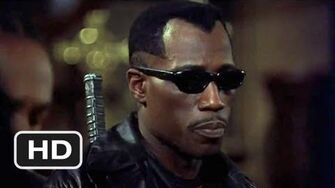 Ad blocker interference detected!
Wikia is a free-to-use site that makes money from advertising. We have a modified experience for viewers using ad blockers

Wikia is not accessible if you've made further modifications. Remove the custom ad blocker rule(s) and the page will load as expected.