Bloodbath at the House of Death
Directed By
Ray Cameron
Written By
Ray Cameron, Barry Cryer
Cast
Pamela Stephenson, Gareth Hunt, Kenny Everett
Produced By
Ray Cameron, John Downes, Laurence Myers
Film Editing By
Brian Tagg
Cinematography By
Dusty Miller, Brian West
Music By
Mark London, Mike Moran
Studio

Wildwood Productions

Country

UK

Language

English

Release Date

March 30, 1984

Runtime

88 Minutes

Rating
R
Distributed By

Goldfarb Distribution, Nucleus Films Ltd
Plot
Cast
Kenny Everett as Dr. Lukas Mandeville
Pamela Stephenson as Dr. Barbara Coyle
Vincent Price as Sinister Man
Gareth Hunt as Elliot Broome
Don Warrington as Stephen Wilson
John Fortune as John Harrison
Sheila Steafel as Sheila Finch
John Stephen Hill as Henry Noland
Cleo Rocos as Deborah Kedding
Graham Stark as The Blind Man
Pat Ashton as Barmaid
David Lodge as Inspector Goule
Debbie Linden as Attractive Girl
Tim Barrett as Doctor
Barry Cryer as Police Inspector
Anna Dawson as Nurse
Michael McIntyre as E.T.
Production
Reception
Trailer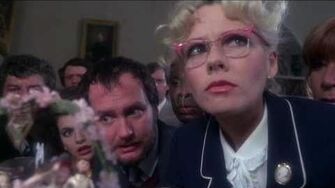 Ad blocker interference detected!
Wikia is a free-to-use site that makes money from advertising. We have a modified experience for viewers using ad blockers

Wikia is not accessible if you've made further modifications. Remove the custom ad blocker rule(s) and the page will load as expected.