Carrie

If you've got a taste for terror, take Carrie to the prom.
Directed By
Brian De Palma
Screenplay By
Lawrence D. Cohen
Cast
Sissy Spacek, William Katt, Amy Irving, John Travolta
Produced By
Paul Monash
Film Editing By
Paul Hirsch
Cinematography By
Mario Tosi
Music By
Pino Donaggio
Country

United States

Language

English

Release Date

November 3, 1976

Runtime

98 Minutes

Rating
R
Distributed By

United Artists

Budget
$1,800,000
Gross
$33,800,000
Based on
Carrie by Stephen King
Plot
Write the first section of your page here.
Cast
Sissy Spacek as Carrie White
Piper Laurie as Margaret White
Amy Irving as Sue Snell
William Katt as Tommy Ross
Nancy Allen as Chris Hargensen
Betty Buckley as Ms. Collins
John Travolta as Billy Nolan
P.J. Soles as Norma Watson
Edie McClurg as Helen Shyres
Priscilla Pointer as Mrs. Snell
Sydney Lassick as Mr. Fromm
Stefan Gierasch as Principal Morton
Michael Talbott as Freddy DeLois
Rory Stevens as Kenny Garson
Harry Gold as George Dawson
Noelle North as Freida Jason
Cindy Daly as Cora Wilson
Dierdre Berthrong as Rhonda Wilson
Production
Reception
Trailer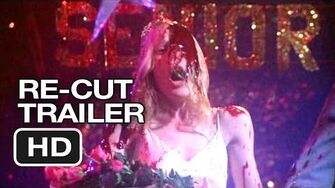 Ad blocker interference detected!
Wikia is a free-to-use site that makes money from advertising. We have a modified experience for viewers using ad blockers

Wikia is not accessible if you've made further modifications. Remove the custom ad blocker rule(s) and the page will load as expected.