A Clockwork Orange
Directed By
Stanley Kubrick
Screenplay By
Stanley Kubrick
Cast
Malcolm McDowell, Patrick Magee, Adrienne Corri, Miriam Karlin, Michael Bates
Produced By
Stanley Kubrick
Film Editing By
Bill Butler
Cinematography By
John Alcott
Music By
Walter Carlos
Studio

Hawk Films

Country

United Kingdom, United States

Language

English, Nadsat

Release Date

December 19, 1971

Runtime

136 Minutes

Distributed By

Columbia-Warner, Warner Bros.

Budget
$2,200,000
Gross
$26,589,355
Based on
A Clockwork Orange by Anthony Burgess
Plot
Write the first section of your page here.
Cast
Malcolm McDowell as Alex DeLarge
Patrick Magee as Mr. Frank Alexander
Michael Bates as Chief Guard Barnes
Warren Clarke as Dim
Adrienne Corri as Mrs. Mary Alexander
Carl Duering as Dr. Brodsky
Paul Farrell as Tramp
Clive Francis as Joe the Lodger
James Marcus as Georgie
Madge Ryan as Dr. Branom
Sheila Raynor as Mum
Philip Stone as Dad
Pauline Taylor as Dr. Taylor
Margaret Tyzack as Conspirator Rubinstein
Steven Berkoff as Detective Constable Tom
Michael Tarn as Pete
David Prowse as Julian
Richard Connaught as Billyboy
Carol Drinkwater as Nurse Feeley
Gillian Hills as Sonietta
Production
Reception
Trailer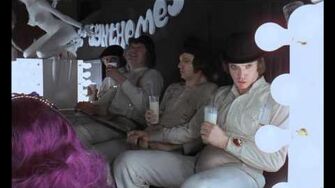 Ad blocker interference detected!
Wikia is a free-to-use site that makes money from advertising. We have a modified experience for viewers using ad blockers

Wikia is not accessible if you've made further modifications. Remove the custom ad blocker rule(s) and the page will load as expected.