Destroy All Monsters
Directed By
Ishiro Honda
Written By
Ishiro Honda, Takeshi Kimura
Cast
Akira Kubo, Jun Tazaki, Yukiko Kobayashi, Yoshio Tsuchiya
Produced By
Tomoyuki Tanaka
Film Editing By
Ryohei Fujii
Cinematography By
Taiichi Kankura
Music By
Akira Ifukube
Studio

Toho

Country

Japan

Language

Japanese

Release Date

August 1, 1968

Runtime

88 Monutes

Rating
G
Distributed By

Toho
Plot
Write the first section of your page here.
Cast
Akira Kubo as Captain Katsuo Yamabe
Jun Tazaki as Dr. Yoshido
Yukiko Kobayashi as Kyoko Manabe
Yoshio Tsuchiya as Dr. Otani
Kyoko Ai as Kilaak Queen
Andrew Hughes as Dr. Stevenson
Kenji Sahara as Nishikawa
Haruo Nakajima as Military Advisor, Godzilla, Baragon
Teruo Nigaki as Rodan
Yu Sekida as Anguirus
'Little Man' Machan as Minilla
Susumu Utsumi as King Ghidorah
Production
Reception
Trailer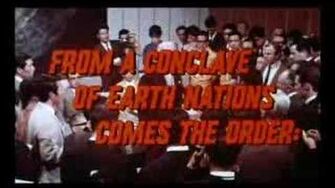 Ad blocker interference detected!
Wikia is a free-to-use site that makes money from advertising. We have a modified experience for viewers using ad blockers

Wikia is not accessible if you've made further modifications. Remove the custom ad blocker rule(s) and the page will load as expected.