Friday the 13th: A New Beginning
Directed By
Danny Steinmann
Screenplay By
Martin Kitrosser, David Cohen, Danny Steinmann
Cast
Melanie Kinnaman, John Shepherd, Mark Venturini, Shavar Ross, Dick Wieand
Produced By
Timothy Silver
Executive Producer
Frank Mancuso, Jr.
Film Editing By
Bruce Green
Cinematography By
Stephen L. Posey
Music By
Harry Manfredini
Country

United States

Language

English

Release Date

March 22, 1985

Runtime

92 Minutes

Rating
R
Distributed By

Paramount Pictures

Budget
$2,200,000
Gross
$21,930,418
Plot
Write the first section of your page here.
Cast
Melanie Kinnaman as Pam Roberts
John Shepherd as Tommy Jarvis
Shavar Ross as Reggie
Corey Feldman as Tommy Jarvis (age 12)
Richard Young as Matt
Marco St. John as Sheriff Tucker
Juliette Cummins as Robin
Carol Locatell as Ethel
Tiffany Helm as Violet
Caskey Swaim as Duke
Mark Venturini as Vic Faden
Richard Lineback as Deputy Dodd
Bob DeSimone as Billy
Jere Fields as Anita
Miguel A. Nunez, Jr. as Demon
Corey Parker as Pete
Rebecca Wood as Lana
Ron Sloan as Junior
Debi Sue Voorhees as Tina
Dick Wieand as Roy Burns
Production
Reception
Trivia
Trailer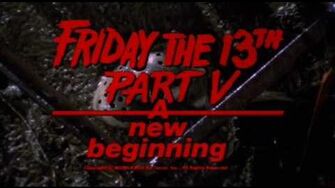 Ad blocker interference detected!
Wikia is a free-to-use site that makes money from advertising. We have a modified experience for viewers using ad blockers

Wikia is not accessible if you've made further modifications. Remove the custom ad blocker rule(s) and the page will load as expected.