Godzilla 2000
Directed By
Takao Okawara
Written By
Hiroshi Kashiwabara, Wataru Mimura
Cast
Takehiro Murata, Hiroshi Abe, Naomi Nishida, Mayu Suzuki
Produced By
Shogo Tomiyama
Film Editing By
Yoshiyuki Okuhara
Cinematography By
Katsuhiro Kato
Music By
Takayuki Hattori
Studio

Toho

Country

Japan

Language

Japanese

Release Date

December 11, 1999

Runtime

107 Minutes

Rating
PG
Distributed By

Toho, Tristar Pictures

Budget
$8,300,000
Plot
Write the first section of your page here.
Cast
Takehiro Murata as Prof. Yuji Shinoda
Hiroshi Abe as Mitsuo Katagiri
Naomi Nishida as Yuki Ichinose
Mayu Suzuki as Io Shinoda
Shiro Sano as Prof. Shiro Miyasaka
Tsutomu Kitagawa as Godzilla
Makoto Ito as Orga
Production
Reception
Trailer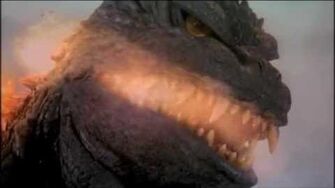 Ad blocker interference detected!
Wikia is a free-to-use site that makes money from advertising. We have a modified experience for viewers using ad blockers

Wikia is not accessible if you've made further modifications. Remove the custom ad blocker rule(s) and the page will load as expected.