Godzilla vs. Mechagodzilla
Directed By
Jun Fukuda
Written By
Jun Fukuda, Masami Fukushima, Shinichi Sekizawa, Hiroyasu Yamamura
Cast
Masaaki Daimon, Kazuya Aoyama, Reiko Tajima, Isao Zushi, Hiromi Matsushita
Produced By
Tomoyuki Tanaka
Cinematography By
Yuzuru Aizawa
Music By
Masaru Sato
Studio

Toho

Country

Japan

Language

Japanese

Release Date

March 21, 1974

Runtime

84 Minutes

Rating
G
Distributed By

Toho
Plot
Write the first section of your page here.
Cast
Masaaki Daimon as Keisuke Shimizu
Kazuya Aoyama as Masahiko Shimizu
Akihiko Hirata as Professor Hideto Miyajima
Hiroshi Koizumi as Professor Wagura
Reiko Tajima as Saeko Kaneshiro
Hiromi Matsushita as Ikuko Miyajima
Goro Mutsumi as Kuronuma
Shin Kishida as Nanbara
Isao Zushi as Godzilla
Ise Mori as Mechagodzlla
Kinichi Kusumi as Anguirus and King Shîsa
Production
Reception
Trailer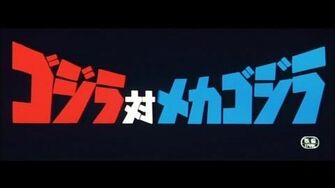 Ad blocker interference detected!
Wikia is a free-to-use site that makes money from advertising. We have a modified experience for viewers using ad blockers

Wikia is not accessible if you've made further modifications. Remove the custom ad blocker rule(s) and the page will load as expected.