Goldfinger

Miss Honey and Miss Galore Have James Bond Back For More!
Directed By
Guy Hamilton
Screenplay By
Richard Maibaum, Paul Dehn
Cast
Sean Connery, Gert Frobe, Honor Blackman, Harold Sakata, Shirley Eaton
Produced By
Harry Saltzman, Albert R. Broccoli
Film Editing By
Peter R. Hunt
Cinematography By
Ted Moore, BSC
Music By
John Barry
Studio

Eon Productions

Country

United Kingdom

Language

English

Release Date

September 18, 1964

Runtime

110 Minutes

Rating
PG
Distributed By

United Artists

Budget
$3,000,000
Gross
$124,900,000
Based on
Goldfinger by Ian Fleming
Overview
++Give a few lines that briefly describe what the film is about.++
Plot
Write the first section of your page here.
Cast
Gert Frobe as Auric Goldfinger
Shirley Eaton as Jill Masterson
Harold Sakata as Oddjob
Tania Mallet as Tilly Masterson
Bernard Lee as M
Cec Linder as Felix Leiter
Martin Benson as Mr. Solo
Desmond Llewelyn as Q
Lois Maxwell as Miss Moneypenny
Austin Willis as Mr. Simmons
Michael Mellinger as Kisch
Burt Kwouk as Mr. Ling
Richard Vernon as Colonel Smithers
Margaret Nolan as Dink
Production
Reception
Trivia
The 3D model of Fort Knox used by Auric Goldfinger to brief his men for his Operation Grandslam was so realistic that it later became part of a permanent exhibition in the real Fort Knox.
Sean Connery had to learn golfing for several of his scenes in the film and it subsequently became an avid hobby for the actor.
External Links
Trailer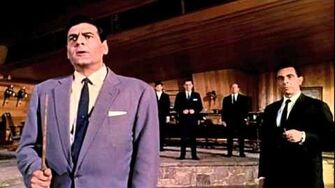 Ad blocker interference detected!
Wikia is a free-to-use site that makes money from advertising. We have a modified experience for viewers using ad blockers

Wikia is not accessible if you've made further modifications. Remove the custom ad blocker rule(s) and the page will load as expected.