Overview
Love makes us do crazy things. And they don't crazier than Harley Quinn!
A former psychiatrist to Batman's recurring nemesis, the Joker; Dr. Harleen Quinzel fell for the clown and to prove her devotion, adopted a jester's outfit as Harley Quinn, his girlfriend and convenient unpaid stooge.
Debuting on September 11, 1992 in the Batman: The Animated Series episode "Joker's Favor" and was voiced by Arleen Sorkin who went on to reprise her role in various TV series and feature films of the DCAU Franchise.
Background
Unlike the vast majority of DC comic book characters who transitioned from the comic books to both television and movies; Harley Quinn is one of the rare few who began life in the opposite manner. She was created by Bruce Timm and Paul Dini for Batman: The Animated Series originally as a minor background character for a sole scene as a token female henchman to the Joker. Harley Quinn first appeared on September 11, 1992 in the Batman: The Animated Series episode "Joker's Favor".
However, her minor role was subsequently expanded as she became the demented and faithful sidekick to the Joker who is romantically obsessed with him and cheerfully oblivious to his lack of feelings for her.
Her immense popularity has seen her eventual inclusion in the DC Comics-verse and other media as one of the most recognizable and popular additions to Batman's Rogue Gallery, often paired with her beloved Joker a year later in 1993.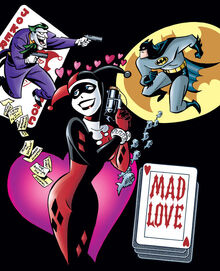 Born to a very poor and uneducated family, the smart and ambitious Harleen Quinzel parlayed her immense gymnastic and acrobatic skills into an athletic scholarship to Gotham City University where she majored in psychology. After graduating, she applied to Arkham Asylum where the ambitious psychologist became fascinated with the most infamous inmate of them all: the Joker.
Originally believing that a in-depth detailed psychological profile would make her career as a psychologist, Quinzel convinced her superiors to let her have some one-on-one sessions with the Joker. Unfortunately during the course of their sessions, Quinzel became increasingly sympathetic and was seduced by the Joker, creating a twisted and complex love affair with her. She helped him escape from Arkham Asylum after which, he was brutally recaptured by the Batman. Quinzel would subsequently broke him out, taking on the namesake of Harley Quinn and a jester's outfit, based on the "Harlequin" of Italian comedic theater who is meant to be a light-hearted, physically agile trickster and servant to the main character, Pierrot who is the foolish clown.
Their twisted relationship however has its up's-and-down's usually whenever the Joker loses his patience with her ... or whenever he becomes bored as tries to murder her. However much to his dismay, Harley miraculously always manages to survive his homicidal attempts, delusional that it's his way of showing his affection for her. After all, if he was really serious about killing her, he would have succeeded right?
Harley has also become friends and the occasional cellmate to Pamela Isley aka Poison Ivy. Their friendship led to Poison Ivy giving her an anti-toxin injection to protect her from Ivy's more poisonous plants and from any casual skin contact. This anti-toxin had an beneficial side-effect of bolstering Harley's strength and agility to superhuman levels. Ivy is also extremely critical of her abusive relationship with the Joker and has sought on several occasions to convince Harley to leave him.
Harley Quinn continues to be a major part of the DC Comics Universe and has been adapted into various media including cartoon TV series, animated specials, live action TV series and feature films usually revolving around the Batman.
Major Plots
Personality and Traits
Appearances
Films
TV Series
Season 1
Joker's Favor
The Laughing Fish
Joker's Wild
Almost Got 'Im
The Man Who Killed Batman
Harley and Ivy
Season 2
Trial
Harlequinade
Make 'Em Laugh
Season 3
Holiday Knights
Joker's Millions
Over the Edge
Girl's Night Out
Mad Love
Beware the Creeper
World's Finest, Part 1
World's Finest, Part 2
World's Finest, Part 3
The Vault
Trick or Trick?
More Than One Way
Pave Paradise
The Three Babes
The Gardener's Apprentice
Lady-X
Miss Un-Congeniality
Strategery
Baby Boom
Bat'ing Cleanup
Catsitter
Gotham Noir
Scout's Dis-Honor
I'm Badgirl
Ms.-ing in Action
Gotham in Pink
Hear Me Roar
Gotham in Blue
A Cat in the Hand
Jailhouse Wreck
Honor Among Thieves
No, I'm Batgirl!
Cold Hands, Cold Heart
The Big Leagues
Hard as Nails
Wild Cards, Part 1
Wild Cards, Part 2
Trivia
Arleen Sorkin, the original voice actress of Harley Quinn is also the inadvertent inspiration for the character. Paul Dini who is a long-time friend of Sorkin, actually heavily based much of her personality on the character of Harley and was inspired by a brief scene where Sorkin dressed up in a harlequin outfit for her role in the soap opera Days of Our Lives.
Quotes
"Face it, Harl, this stinks! You're a certified nutso wanted in twelve states and hopelessly in love with a psychopathic clown. At what point did my life go Looney Tunes? How did it happen? Who's to blame? Batman, that's who. Batman! It's always been Batman! Ruining my life, spoiling my fun! Coming between me and my Puddin' from the very beginning..." ―Harley Quinn; The New Batman Adventures, "Mad Love"
Other Versions
Harley Quinn (The Batman)
Harley Quinn (Batman: The Brave and the Bold)
Harley Quinn (Birds of Prey)
Harley Quinn (Assault on Arkham)
Harley Quinn (Justice League: Gods and Monsters Chronicles)
Harley Quinn (DC Super Hero Girls)
Harley Quinn (Arrow)
Related Pages
Affiliations
Ad blocker interference detected!
Wikia is a free-to-use site that makes money from advertising. We have a modified experience for viewers using ad blockers

Wikia is not accessible if you've made further modifications. Remove the custom ad blocker rule(s) and the page will load as expected.