Joxer

General Information




Gender
Male
Aliases
Age
Birthday
Unknown
Race
Human

Debuts

TV Show
Xena: Warrior Princess
Film
Credit
Ted Raimi
Overview
Joxer is a frequently recurring character in the TV Show Xena: Warrior Princess. He is a dim-witted, inept warrior and best friends with Xena and Gabrielle.
Background
He first meets Xena and Gabrielle leading up to their first encounter with Callisto (in episode 1.22 Callisto). He offers his services as a warrior to Xena but she declines. So he decides to try his luck serving Callisto instead. He is derided but asked to prove himself by killing Gabrielle. He realises he can't do this and ends up becoming friends with Xena and Gabrielle, whether they like it or not. He wears a random assortment of ill-fitting armour and uses a sword. His most prized possession is his scabbard. It was handed down to him by his father.
Major Plots
Personality and Traits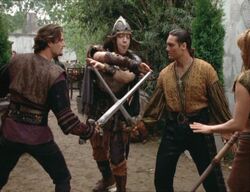 Joxer is a bumbling warrior who frequently rushes into situations far beyond his ability, not from a source of bravery but one of stupidity. He means well and is good friends with Xena and Gabrielle but he is a source of humour for them and often doesn't intend to be. He likes to think of himself as a brave warrior but in reality he is cowardly, clumsy and can barely swing a sword without falling over. He secretly admires Gabrielle but doesn't know what do about it. Despite all this he has on occasion helped Xena and Gabrielle when they really needed it.
Trivia
He sometimes sings the song "Joxer the Mighty" portraying himself as a mighty warrior with Gabrielle as his sidekick, although the lyrics tend to vary depending on the situation he is in. Below is the version featured in episode 2.2 A Comedy of Eros.
Joxer the Mighty

He roams through the countryside

He never needs a place to hide

With Gabby as his sidekick

Fighting with her little stick

Righting wrongs and singing songs

Being mighty all day long

He's Joxer He's Joxer the Mighty
Quotes
Look look look, let me explain it to you. They're grateful. They make me a lord of the realm and ruler of the treasury. 'More wine, m'lord?' No no. Ha ha! See? I sneak into the treasury, take the key from one of the guards, say something like, 'What's that over there?!' You know? Then I free you two and we walk off rich into the sunset. What do ya think?
Appearances in Xena: Warrior Princess
| Season 1 | Season 2 | Season 3 |
| --- | --- | --- |
| 1.22 Callisto | | |
| Season 4 | Season 5 | Season 6 |
| | | |
Ad blocker interference detected!
Wikia is a free-to-use site that makes money from advertising. We have a modified experience for viewers using ad blockers

Wikia is not accessible if you've made further modifications. Remove the custom ad blocker rule(s) and the page will load as expected.