Kids
Directed By
Larry Clark
Screenplay By
Harmony Korine
Cast
Leo Fitzpatrick, Chloe Sevigny, Justin Pierce, Rosario Dawson
Produced By
Christine Vachon, Gus Van Sant, Cary Woods, Cathy Konrad
Film Editing By
Christopher Tellefsen
Cinematography By
Eric Edwards
Music By
Lou Barlow
Studio

Independent Pictures, Killer Films, Miramax Films, Shining Excalibur Films

Country

United States

Language

English

Release Date

July 28, 1995

Runtime

91 Minutes

Distributed By

Buena Vista Pictures

Budget
$1,500,000
Gross
$20,412,216
Plot
Write the first section of your page here.
Cast
Leo Fitzpatrick as Telly
Justin Pierce as Casper
Chloe Sevigny as Jennie
Rosario Dawson as Ruby
Jon Abrahams as Steven
Harold Hunter as Harold
Harmony Korine as Fidget
Yakira Peguero as Darcy
Billy Waldman as Zack
Julia Mendoza as Susan
Jeff Pang as Jeff
Savannah Katsaros as Buddah
Hamilton Harris as Hamilton
Production
Reception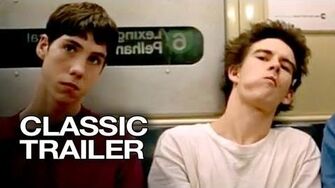 Ad blocker interference detected!
Wikia is a free-to-use site that makes money from advertising. We have a modified experience for viewers using ad blockers

Wikia is not accessible if you've made further modifications. Remove the custom ad blocker rule(s) and the page will load as expected.