Logan's Run
Directed By
Michael Anderson
Screenplay By
David Zelag Goodman
Cast
Michael York, Jenny Agutter, Richard Jordan, Roscoe Lee Browne, Farrah Fawcett
Produced By
Saul David
Film Editing By
Bob Wyman
Cinematography By
Ernest Laszlo
Music By
Jerry Goldsmith
Studio

MGM

Country

United States

Language

English

Release Date

June 23, 1976

Runtime

119 Minutes

Rating
PG
Distributed By

United Artists

Budget
$9,000,000
Gross
$25,000,000
Based on
Logan's Run by William F. Nolan and George Clayton Johnson
Plot
Write the first section of your page here.
Cast
Michael York as Logan 5
Richard Jordan as Francis 7
Jenny Agutter as Jessica 6
Roscoe Lee Browne as Box
Farrah Fawcett as Holly 13
Michael Anderson Jr. as Doc
Peter Ustinov as The Old Man
Ashley Cox as The Timid Girl
Lara Lindsay as The Woman Runner
Gary Morgan as Billy
Michelle Stacy as Mary 2
David Westberg as The Sandman
Production
Reception
Trailer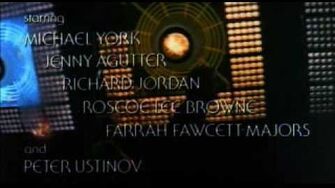 Ad blocker interference detected!
Wikia is a free-to-use site that makes money from advertising. We have a modified experience for viewers using ad blockers

Wikia is not accessible if you've made further modifications. Remove the custom ad blocker rule(s) and the page will load as expected.