Lolita
Directed By
Stanley Kubrick
Screenplay By
Vladimir Nabokov, Stanley Kubrick
Cast
James Mason, Peter Sellers, Shelley Winters, Sue Lyon
Produced By
James B. Harris
Film Editing By
Anthony Harvey
Cinematography By
Oswald Morris
Music By
Nelson Riddle, Bob Harris
Studio

Seven Arts, AA Productions, Anya Pictures, Transworld Pictures

Country

United Kingdom, United States

Language

English

Release Date

June 13, 1962

Runtime

152 Minutes

Distributed By

MGM, Turner Entertainment Co.

Budget
$2,000,000
Gross
$9,250,000
Based on
Lolita by Vladimir Nabokov
Plot
Write the first section of your page here.
Cast
James Mason as Humbert "Hum" Humbert
Shelley Winters as Charlotte Haze-Humbert
Sue Lyon as Dolores "Lolita" Haze
Peter Sellers as Clare Quilty
Gary Cockrell as Richard "Dick" Schiller
Jerry Stovin as John Farlow
Diana Decker as Jean Farlow
Lois Maxwell as Nurse Mary Lore
Cec Linder as Dr. Keegee
Bill Greene as George Swine
Shirley Douglas as Mrs. Starch
Marianne Stone as Vivian Darkbloom
Marion Mathie as Miss Lebone
James Dyrenforth as Frederick Beale, Sr.
C. Denier Warren as Potts
Production
Reception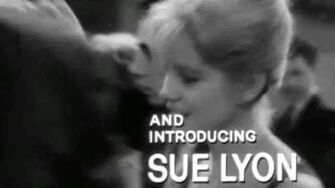 Ad blocker interference detected!
Wikia is a free-to-use site that makes money from advertising. We have a modified experience for viewers using ad blockers

Wikia is not accessible if you've made further modifications. Remove the custom ad blocker rule(s) and the page will load as expected.