MASH
Directed By
Robert Altman, Fred Williamson
Screenplay By
Ring Lardner, Jr.
Cast
Donald Sutherland, Elliott Gould, Tom Skerritt, Sally Kellerman, Robert Duvall
Produced By
Ingo Preminger
Film Editing By
Danford B. Greene
Cinematography By
Harold E. Stine
Music By
Johnny Mandel
Studio

Ingo Preminger Productions, Aspen Productions

Country

United States

Language

English

Release Date

January 25, 1970

Runtime

116 Minutes

Rating
R
Distributed By

20th Century Fox

Budget
$3,025,000
Gross
$81,600,000
Based on
MASH: A Novel About Three Army Doctors by Richard Hooker
Overview
Plot
Write the first section of your page here.
Cast
Donald Sutherland as Benjamin Franklin "Hawkeye" Pierce
Elliott Gould as John Francis Xavier "Trapper John" McIntyre
Tom Skerritt as Augustus Bedford "Duke" Forrest
Sally Kellerman as Margaret "Hot Lips" Houlihan
Robert Duvall as Frank Burns
Roger Bowen as Henry Braymore Blake
Rene Auberjonois as Father John Patrick "Dago Red" Mulcahy
John Schuck as Walter Koskiusko "The Painless Pole" Waldowski, DDS
Carl Gottlieb as John "Ugly John" Black
Danny Goldman as Captain Murrhardt
Corey Fischer as Dennis Patrick Bandini
Jo Ann Pflug as Maria "Dish" Schneider
Dawne Damon as Captain Scorch
Tamara Horrocks as Bridget "Knocko" McCarthy
David Arkin as Wade Douglas Vollmer
Gary Burghoff as Cpl. "Radar" O'Reilly
Fred Williamson as Oliver Harmon "Spearchucker" Jones
Michael Murphy as Ezekiel Bradbury "Me Lay" Marston IV
Bud Cort as Lorenzo Boone
G. Wood as Charlie Hammond
Kim Atwood as Ho-Jon
Production
Reception
Trivia
External Links
Trailer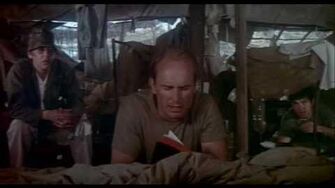 Ad blocker interference detected!
Wikia is a free-to-use site that makes money from advertising. We have a modified experience for viewers using ad blockers

Wikia is not accessible if you've made further modifications. Remove the custom ad blocker rule(s) and the page will load as expected.