Machete
Directed By
Robert Rodriguez, Ethan Maniquis
Written By
Robert Rodriguez, Alvaro Rodriguez
Cast
Danny Trejo, Jessica Alba, Robert De Niro, Steven Seagal, Michelle Rodriguez
Produced By
Robert Rodriguez, Elizabeth Avellan, Rick Schwartz
Film Editing By
Robert Rodriguez, Rebecca Rodriguez
Cinematography By
Jimmy Lindsey
Music By
Chingon
Studio

Troublemaker Studios, Overnight Films, Hyde Park Entertainment

Country

United States

Language

English, Spanish

Release Date

September 3, 2010

Runtime

105 Minutes

Rating
R
Distributed By

20th Century Fox, Sony Pictures Releasing International

Budget
$10,500,000
Gross
$44,083,657
Plot
Write the first section of your page here.
Cast
Robert De Niro as Senator John McLaughlin
Jessica Alba as Sartana Rivera
Steven Seagal as Rogelio Torrez
Jeff Fahey as Michael Booth
Cheech Marin as Padre Benicio Del Toro
Don Johnson as Von Jackson
Shea Whigham as Sniper
Daryl Sabara as Julio
Gilbert Trejo as Jorge
Tom Savini as Osiris Amanpour
Billy Blair as Billy
Felix Sabates as Doctor Felix
Electra Avellan as Nurse Mona
Elise Avellan as Nurse Lisa
Juan Gabriel Pareja as Rico
Alicia Marek as June Booth
Tito Larriva as Culebra Cruzado
Cheryl "Chin" Cunningham as Torrez's Henchwoman
Production
Reception
Trailer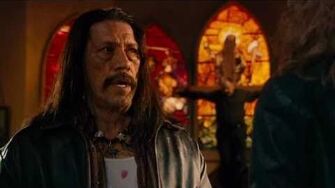 Ad blocker interference detected!
Wikia is a free-to-use site that makes money from advertising. We have a modified experience for viewers using ad blockers

Wikia is not accessible if you've made further modifications. Remove the custom ad blocker rule(s) and the page will load as expected.