Machete Kills
Directed By
Robert Rodriguez
Screenplay By
Kyle Ward
Cast
Danny Trejo, Mel Gibson, Sofia Vergara, Amber Heard, Lady Gaga, Antonio Banderas
Produced By
Robert Rodriguez, Rick Schwartz, Alexander Rodnyansky, Sergei Bespalov, Aaron Kaufman, Iliana Nikolic
Film Editing By
Robert Rodriguez, Rebecca Rodriguez
Cinematography By
Robert Rodriguez
Music By
Carl Thiel
Studio

Quick Draw Productions

Country

United States

Language

English, Spanish

Release Date

October 11, 2013

Runtime

108 Minutes

Rating
R
Distributed By

Open Road Films

Budget
$20,000,000
Plot
Write the first section of your page here.
Cast
Demian Bichir as Marcos Mendez
Charlie Sheen as President Rathcock
Walton Goggins as El Chameleon
Cuba Gooding, Jr. as El Chameleon
Lady Gaga as El Chameleon
Antonio Banderas as El Chameleon
Jessica Alba as Sartana Rivera
Vanessa Hudgens as Cereza Desdemona
Alexa Vega as KillJoy
Marko Zaror as Zaror
Tom Savini as Osiris Amanpour
William Sadler as Sheriff Doakes
Julio Oscar Mechoso as Chepo
Samuel Davis as Clebourne
Vincent Fuentes as Cabrito Cook
Elle Lamont as Dollface
Felix Sabates as Doc Felix
Electra Avellan as Nurse Mona
Elise Avellan as Nurse Lisa
Marci Madison as Nurse Fine
Production
Reception
Trailer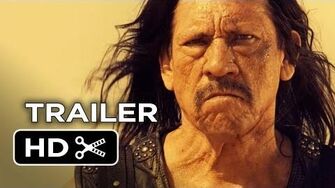 Ad blocker interference detected!
Wikia is a free-to-use site that makes money from advertising. We have a modified experience for viewers using ad blockers

Wikia is not accessible if you've made further modifications. Remove the custom ad blocker rule(s) and the page will load as expected.