Mallrats
Directed By
Kevin Smith
Written By
Kevin Smith
Cast
Shannen Doherty, Jason Lee, Jeremy London, Claire Forlani
Produced By
Sean Daniel, James Jacks, Scott Mosier
Film Editing By
Paul Dixon
Cinematography By
David Klein
Studio

View Askew Productions, Gramercy Pictures

Country

United States

Language

English

Release Date

October 20, 1995

Runtime

94 Minutes

Rating
R
Distributed By

Universal Pictures

Budget
$6,000,000
Plot
Write the first section of your page here.
Cast
Jeremy London as T.S. Quint
Shannen Doherty as Rene Mosier
Jason Mewes as Jay
Priscilla Barnes as Miss Ivannah
Renee Humphrey as Tricia Jones
Ethan Suplee as William Black
Sven-Ole Thorsen as LaFours
Stan Lee as Himself
Scott Mosier as Roddy
Walt Flanagan as Walt "Fanboy" Grover
Bryan Johnson as Steve-Dave Pulasti
Brian O'Halloran as Gil Hicks
Production
Reception
Trailer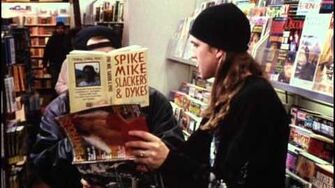 Ad blocker interference detected!
Wikia is a free-to-use site that makes money from advertising. We have a modified experience for viewers using ad blockers

Wikia is not accessible if you've made further modifications. Remove the custom ad blocker rule(s) and the page will load as expected.