Oldboy
Directed By
Park Chan-wook
Written By
Hwang Jo-yoon, Im Joon-hyeong, Park Chan-wook
Cast
Choi Min-sik, Yoo Ji-tae, Kang Hye-jung
Produced By
Im Seung-yong, Kim Dong-joo
Film Editing By
Kim Sang-beom
Cinematography By
Chung Chung-hoon
Music By
Jo Yeong-wook
Studio

Show East, Egg Films

Country

South Korea

Language

Korean

Release Date

November 21, 2003

Runtime

120 Minutes

Rating
R
Distributed By

Show East, Tartan Films

Budget
$3,000,000
Gross
$14,980,005
Based on
Old Boy by Garon Tsuchiya and Nobuaki Minegishi
Plot
Write the first section of your page here.
Cast
Choi Min-sik as Oh Dae-su
Yoo Ji-tae as Lee Woo-jin
Kang Hye-jung as Mi-do
Ji Dae-han as No Joo-hwan
Kim Byeong-ok as Mr. Han
Oh Tae-kyung as Young Dae-su
Ahn Yeon-seok as Young Woo-jin
Yoon Jin-seo as Lee Soo-ah
Oh Dal-su as Park Cheol-woong
Production
Reception
Trailer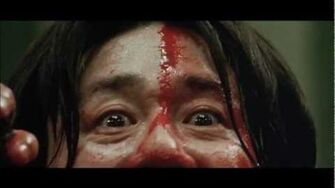 Ad blocker interference detected!
Wikia is a free-to-use site that makes money from advertising. We have a modified experience for viewers using ad blockers

Wikia is not accessible if you've made further modifications. Remove the custom ad blocker rule(s) and the page will load as expected.