Predator

Soon the hunt will begin.
Directed By
John McTiernan
Written By
Jim Thomas, John Thomas
Cast
Arnold Schwarzenegger, Bill Duke, Carl Weathers, Jesse Ventura, Kevin Peter Hall
Produced By
Lawrence Gordon, Joel Silver, John Davis
Film Editing By
Mark Helfrich, John F. Link
Cinematography By
Donald McAlpine
Music By
Alan Silvestri
Studio

Gordon Company, Silver Pictures, Davis Entertainment

Country

United States

Language

English

Release Date

June 12, 1987

Runtime

107 Minutes

Rating
R
Distributed By

20th Century Fox

Budget
$15,000,000
Gross
$98,267,558
Overview
An elite team of American commandos on an extraction mission in the South American jungle find that they are not the most dangerous thing in there. One by one, they are stalked and killed by a vicious hunter whom the survivors realize is not of this earth.
Plot
Cast
Carl Weathers as George Dillon
Bill Duke as Mac Eliot
Jesse Ventura as Blain Cooper
Elpidia Carrillo as Anna
Sonny Landham as Billy Sole
Richard Chaves as Jorge "Poncho" Ramirez
Shane Black as Rick Hawkins
R.G. Armstrong as Major General Homer Phillips
Kevin Peter Hall as The Predator
Production
Reception
External Links
Trailer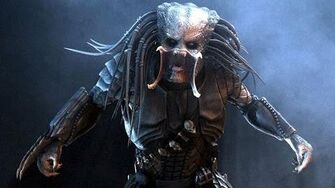 Ad blocker interference detected!
Wikia is a free-to-use site that makes money from advertising. We have a modified experience for viewers using ad blockers

Wikia is not accessible if you've made further modifications. Remove the custom ad blocker rule(s) and the page will load as expected.