Predator 2
Directed By
Stephen Hopkins
Written By
Jim Thomas, John Thomas
Cast
Danny Glover, Gary Busey, Maria Conchita Alonso, Bill Paxton, Ruben Blades
Produced By
Lawrence Gordon, Joel Silver, John Davis
Film Editing By
Mark Goldblatt, Bert Lovitt
Cinematography By
Peter Levy
Music By
Alan Silvestri
Studio

Silver Pictures, Davis Entertainment, Gordon Company

Country

United States

Language

English

Release Date

November 21, 1990

Runtime

108 Minutes

Rating
R
Distributed By

20th Century Fox

Budget
$35,000,000
Gross
$57,120,318
Plot
LAPD Lt. Mike Harrigan is a good cop battling both an oppressive heat wave and a gang war between two rival drug cartels. But suddenly this war turns very ugly ... and very macabre with armed men being slaughtered in a span of minutes; of victims being skinned or decapitated.
And Harrigan starts to believe that there is something else out there. A third party stalking these gangsters. Something strong. Something armed with unearthly weapons. Something ... alien.
Cast
Danny Glover as Lieutenant Mike Harrigan
Gary Busey as Special Agent Peter Keyes
Ruben Blades as Detective Danny Archuleta
Maria Conchita Alonso as Detective Leona Cantrell
Bill Paxton as Detective Jerry Lambert
Robert Davi as Deputy Chief Phil Heinemann
Adam Baldwin as Garber
Kent McCord as Captain B. Pilgrim
Morton Downey, Jr. as Tony Pope
Calvin Lockhart as King Willie
Kevin Peter Hall as The Predator
Production
Reception
Trailer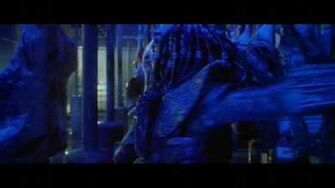 Ad blocker interference detected!
Wikia is a free-to-use site that makes money from advertising. We have a modified experience for viewers using ad blockers

Wikia is not accessible if you've made further modifications. Remove the custom ad blocker rule(s) and the page will load as expected.