Toy Story 3

No Toy Gets Left Behind.
Directed By
Lee Unkrich
Screenplay By
Michael Arndt
Cast
Tom Hanks, Tim Allen, Joan Cusack, Ned Beatty, Michael Keaton, John Ratzenberger
Produced By
Darla K. Anderson
Film Editing By
Ken Schretzmann
Cinematography By
Jeremy Lasky, Kim White
Music By
Randy Newman
Studio

Walt Disney Pictures, Pixar Animation Studios

Country

United States

Language

English

Release Date

June 18, 2010

Runtime

103 Minutes

Rating
G
Distributed By

Walt Disney Studios Motion Pictures

Budget
$200,000,000
Gross
$1,063,171,911
Plot
Write the first section of your page here.
Cast
Tom Hanks as Woody
Tim Allen as Buzz Lightyear
Joan Cusack as Jessie
Ned Beatty as Lots-O'-Huggin' Bear
John Morris as Andy
Don Rickles as Mr. Potato Head
Blake Clark as Slinky Dog
Wallace Shawn as Rex
John Ratzenberger as Hamm
Estelle Harris as Mrs. Potato Head
Michael Keaton as Ken
Jodi Benson as Barbie
Emily Hahn as Bonnie
Jeff Pidgeon as Aliens
Timothy Dalton as Mr. Pricklepants
Kristen Schaal as Trixie
Jeff Garlin as Buttercup
Bonnie Hunt as Dolly
Whoopi Goldberg as Stretch
Jack Angel as Chunk
Jan Rabson as Sparks
John Cygan as Twitch
Laurie Metcalf as Andy's Mom
Beatrice Miller as Molly
R. Lee Ermey as Sarge
Teddy Newton as Chatter Telephone
Richard Kind as Bookworm
Bud Luckey as Chuckles
Javier Fernandez Pena as Spanish Buzz
Charlie Bright as Peaty
Amber Kroner as Peatrice
Brianna Maiwand as Penelope
Erik von Detten as Sid
Jack Willis as The Frog
Lee Unkrich as Jack-in-the-Box and The Monkey
Woody Smith as Big Baby
Production
Reception
Trailer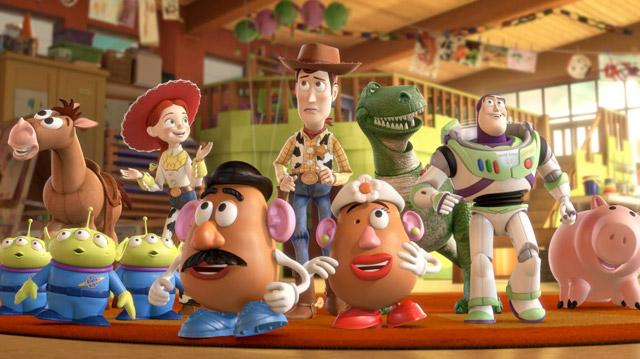 Ad blocker interference detected!
Wikia is a free-to-use site that makes money from advertising. We have a modified experience for viewers using ad blockers

Wikia is not accessible if you've made further modifications. Remove the custom ad blocker rule(s) and the page will load as expected.