Twilight
Directed By
Catherine Hardwicke
Screenplay By
Melissa Rosenberg
Cast
Kristen Stewart, Robert Pattinson, Ashley Greene, Billy Burke, Taylor Lautner
Produced By
Wyck Godfrey, Greg Mooradian, Mark Morgan
Film Editing By
Nancy Richardson
Cinematography By
Elliot Davis
Music By
Carter Burwell
Studio

Temple Hill Entertainment, Maverick Films, Imprint Entertainment, DMG Entertainment

Country

United States

Language

English

Release Date

November 21, 2008

Runtime

121 Minutes

Rating
PG-13
Distributed By

Summit Entertainment

Budget
$37,000,000
Gross
$392,616,625
Based on
Twilight by Stephenie Meyer
Plot
Write the first section of your page here.
Cast
Kristen Stewart as Bella Swan
Taylor Lautner as Jacob Black
Peter Facinelli as Carlisle Cullen
Elizabeth Reaser as Esme Cullen
Ashley Greene as Alice Cullen
Kellan Lutz as Emmett Cullen
Nikki Reed a Rosalie Cullen
Jackson Rathbone as Jasper Hale
Billy Burke as Charlie Swan
Sarah Clarke as Renee Dwyer
Gil Birmingham as Billy Black
Anna Kendrick as Jessica Stanley
Michael Welch as Mike Newton
Christian Serratos as Angela Webber
Cam Gigandet as James
Rachelle Lefevre as Victoria
Edi Gathegi as Laurent
Solomon Trimble as sam Uley
Krys Hyatt as Embry Call
Gregory Tyree Boyce as Tyler Crowley
Matt Bushell as Phil Dwyer
Production
Reception
Trailer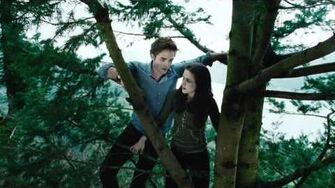 Ad blocker interference detected!
Wikia is a free-to-use site that makes money from advertising. We have a modified experience for viewers using ad blockers

Wikia is not accessible if you've made further modifications. Remove the custom ad blocker rule(s) and the page will load as expected.