WKRP in Cincinnati

General Information




Aliases
Radio Cincinnati
Creator(s)
Hugh Wilson
Principal Cast
Gary Sandy, Gordon Jump, Howard Hesseman, Loni Anderson, Richard Sanders, Frank Bonner, Tim Reid, Jan Smithers

Broadcasts

Network
CBS
Rating
TV-PG
Runtime
24-25 minutes
No. of Seasons
4
No. of Episodes
90
Start Date
September 18, 1978
End Date
April 21, 1982

Production

Spin-offs
The New WKRP in Cincinnati
Country
United States
Language
English
Overview
WKRP is a floundering Cincinnati radio station that's been a financial sinkhole for years. It's halfheartedly run by the bumbling Arthur Carlson whose sole qualification for this position is that he happens to be the son of the tyrannical station owner. Otherwise, he doesn't really know what's he's doing; let alone what the rest of the station staff is doing. Yet WKRP's staff somehow trundles along even though it consists of a group of offbeat, colorful, strange, and even more incompetent employees than Carlson!
Enter Andy Travis, the new program director who is determined to turn things around for this struggling radio station. Travis has had an unblemished record of successfully transforming loser radio stations into profit-making winners ... but he may have finally met his match with the wacky but well meaning staff members...
WKRP in Cincinnati was an award winning American sitcom TV series. It suffered from low ratings thanks to a constantly shifting TV schedule during its run which prompted its cancellation after four seasons.  It was based on the real life experiences of creator Hugh Wilson's employment at a radio station and who also based several of the characters upon real-life radio personalities and employees. 
Surprisingly enough, the series was an unexpected major hit in syndication which resulted in a short-lived sequel spin-off series, The New WKRP in Cincinnati which saw several of the old cast members, Gordon Jump, Frank Bonner, Richard Sanders, and Howard Hesseman reprising their prior roles.
Notable Characters
Andy Travis
Arthur "Big Guy" Carlson
Dr. Johnny Fever
Venus Flytrap
Jennifer Marlowe
Herb Tarlek
Les Nessman
Bailey Quarters
Plot Summary
Season 1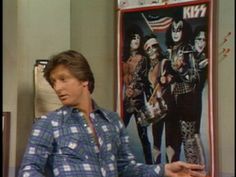 Andy Travis has got a problem.  It's his job.  As the new programming director at WKRP, he has a mandate to turn the failing station around and back into a money making winner.  To do that he has to bring back the audiences and thus, he has no other choice but to shift their format from easy-easy listening to rock 'n roll. 
Hopefully, this new shift in music will hopefully bring back the listeners and thus bring in some sponsors and money to hire new employees, better employees ... any employees because there has to be somebody less incompetent than the bunch of yahoos Travis is forced to cope with and/or work around.  Or at least less weird. But it won't be easy. 
The few but fervent listeners are appalled by his changes and are revolting.  Literally in the station's lobby!  And things just aren't getting better for WKRP.  They are getting ... stranger though.  A live remote show to promote a local electronics store finds the radio crew held hostage by a desperate gunman who really wants to be on the air anyway he can! And then Mr. Carlson had the brilliant idea of a free turkey give-away at Thanksgiving. But his "brilliant" promotional idea falls flat ... and so do the turkeys.   
But the biggest surprise is yet to come when Sales Manager Herb Tarlek finally comes through with a big corporate sponsor for WKRP. That means fresh money for the flagging radio station. But is Ferryman who is the owner of the biggest chain of funeral homes and wants to tap into a younger market of future customers really the right sort of sponsor that WKRP wants?   
Season 2
Once upon a time, Johnny Caravella was one of the best and highly rated DJs in the country. Then he said "booger" on the air and was promptly fired and his career took a nose dive ever since. He ultimately found himself at rock bottom: a tiny radio station called WKRP and trying not to cry while playing music that makes him want to claw his ears off. Then Andy Travis ripped up the old easy listening format and WKRP is now in rock 'n roll and Johnny Caravella is now burning up the airwaves as Dr. Johnny Fever!
But his renewed success brings back a sleezy ex-girlfriend who is interested in cashing in on him and his friends at WKRP must come to bail him out.
Arthur Carlson has a few problems of his own though.  He's running for City Council but after he inadvertently reveals something damaging about his opponent, he feels obligated to do the very best he can to lose the election! 
Season 3
WKRP News Director Les Nessman has always wanted a traffic helicopter particularly since his hated rival radio station, WPIG has one. After years of never getting one, he's finally hit upon the perfect solution. With an ex-military pilot who rents out his World War I era bi-plane, Les starts tearing up the skies with his live traffic reports! But when his pilot becomes incensed over the lack of respect that Cincinnati has for Veteran's Day, Les finds out that he may need God for his co-pilot when the pilot starts making demands that the entire city must show it still honors military vets or else he'll crash his plane with Les in it!
Season 4
WKRP has gotten quite a lot of crank callers over the years.  So they don't really take a bomb threat seriously.  Who would want to blow them up when they are a lot more important radio stations to blow up?  Radio stations that people actually listen to and may actually pay attention if they were to go off the air?  Unfortunately this one threat seems to be real and not a prank...
Episode Guide
Season 1
| # | | Episode Title | Air Date |
| --- | --- | --- | --- |
Ad blocker interference detected!
Wikia is a free-to-use site that makes money from advertising. We have a modified experience for viewers using ad blockers

Wikia is not accessible if you've made further modifications. Remove the custom ad blocker rule(s) and the page will load as expected.