Young Frankenstein
Directed By
Mel Brooks
Written By
Mel Brooks, Gene Wilder
Cast
Gene Wilder, Marty Feldman, Peter Boyle, Teri Garr, Madeline Kahn, Cloris Leachman, Gene Hackman
Produced By
Michael Gruskoff
Film Editing By
John C. Howard
Cinematography By
Gerald Hirschfeld
Music By
John Morris
Country

United States

Language

English

Release Date

December 15, 1974

Runtime

105 Minutes

Rating
PG
Distributed By

20th Century Fox

Budget
$2,780,000
Gross
$86,273,333
Plot
Write the first section of your page here.
Cast
Gene Wilder as Dr. Frederick Frankenstein
Marty Feldman as Igor
Peter Boyle as Frankenstein's Monster
Teri Garr as Inga
Cloris Leachman as Frau Blucher
Madeline Kahn as Elizabeth
Kenneth Mars as Inspector Kemp
Richard Haydn as Herr Falkstein
Liam Dunn as Mr. Hilltop
Gene Hackman as Harold
Production
Reception
Trailer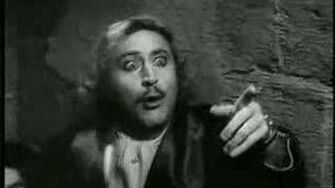 Ad blocker interference detected!
Wikia is a free-to-use site that makes money from advertising. We have a modified experience for viewers using ad blockers

Wikia is not accessible if you've made further modifications. Remove the custom ad blocker rule(s) and the page will load as expected.